Non-swimmer Tours – Cairns Great Barrier Reef
Great Barrier Reef for non-swimmers in Cairns and Port-Douglas
Get the best deal @ Cairns Beaches Tourist information Centre.
Phone us now on: 07 4055 7158 or drop in or email us.
For the best range of Great Barrier Reef tours for non-swimmers just ask our Reef Specialist. Nervous don't know how to swim, can swim but want to snorkel safely, or simply just want to enjoy the reef without getting wet, ask our reef specialist at Cairns Beaches Tourist Information Centre, who can book the Great Barrier Reef trip that suits your needs. Having some relatives who are nervous about snorkeling we have worked out a select range of activities and experiences that are suitable for non swimmers, so you can enjoy the Great Barrier Reef at your ability level. It is very important that you chose the right location and boat, as some boats are recommended only for swimmers, just ask and we will assist you.
CAIRNS GREAT BARRIER REEF Activities FOR NON-SWIMMERS
Green Island activities for non-swimmers.
Green Island is ideal for non swimmers, nervous snorkelers or persons with a disability. Shallow water access, clear visibility and a variety of half day and full day options for snorkeling. or via   glass bottom boat, semi submersible, sea walker and helicopter scenic flights over the reef make this a popular location for anxious swimmers. Our Green Island specialist has experienced this tour many times so just ask.
---
ASK FOR THE CHILD AND FAMILY PRICES

ADULT FROM
 $93.00 
Outer Barrier Reef Sandy Cay
Adult from $202 | Child $101
We love this location with easy access off the beach on the outer Barrier Reef at Michaelmas Cay. Walk into the shallow clear water off the Cay Beach and immediately experience marine life.
The cay forms a natural break water in the ocean with beautiful coral lagoon gardens famous for giant clams, this is a good spot to see turtles. Popular location for non swimmers who want to dive Great Barrier Reef as you gradually walk into the water allowing you to adjust easily.
The free semi submersible tour allows you to see the further out deeper coral reefs and is great for seeing turtles and larger fish. We have experienced this tour many times, just ask us for more information.
---
FROM

 $202.00
Pontoons
From Adult $212 | Child $106 | Family $530
Located on the outer barrier reef these platform work well for non swimmers. Having range of activities such as glass bottom boat tours, semi submersible, underwater observatory, and Great Barrier Reef scenic flights all in one location. You can snorkel utilizing noodles, flotation vests, and devices with helpful dedicated snorkeling staff and life guards. We have pontoon spaces available from Cairns and Port Douglas.
---
FROM
 $212.00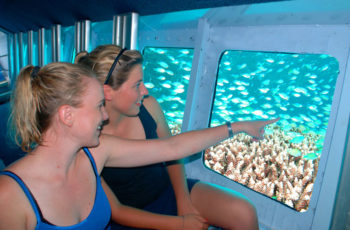 Semi Submersible Coral Viewing
Free inclusion on selected tours or small additional cost on other tours.
Glass Bottom Boat
Free inclusions on selected tours or small additional cost on other tours.
---
Ocean Walker – Helmet Diving
Explore underwater without getting your hair wet.
---
ADULT FROM
 $175 
Guided snorkelling are popular with nervous swimmers
Free inclusion or small charge. Stay with a guide who not only gives you some instruction but also has a life ring with them. Education inspiring tour that specifically finds and identifies different marine life for you. Highly recommended.
---
Underwater Observatory
Free inclusion on all of our Cairns and Port Douglas Pontoons. Large glass windows allow you to sit and watch marine life swim straight past you.
---
Cairns Great Barrier Reef Scenic Flights
We price match or beat all helicopter and scenic flights prices over Great Barrier Reef. Contact us for daily specials for Cairns Scenic flights and Cairns Helicopter flights.
---
FROM
 $189.00 
Great Barrrier Reef Islands suitable for non swimmers -Frankland Islands
Close access to the coral fringing reefs of the Franklin Islands and the quick ocean crossing is just 2 of the benefits of going snorkelling on Farmland. Ask us about other options such as glass bottom boat, semi submersible tours etc.
---
ADULTS FROM
 $169.00 
+ $7 Reef Taxes